WELCOME TO www.number63.ca
THIS SITE IS CURRENTLY UNDER CONSTRUCTION
SURPLUS ELECTRONICS and OTHER MISC. ITEMS for sale
Currently listed: 1 item:
AKAI DLP projection TV model PT46DL10: power supply # DVLU2830XC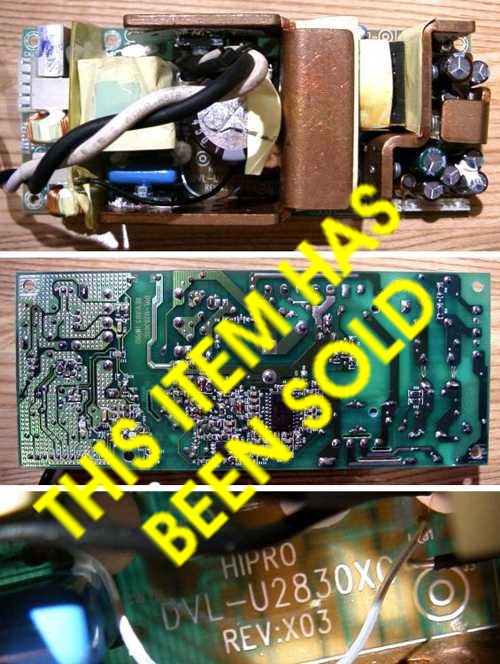 CONDITION:
This power supply is used and has been removed from a non-working TV set. Suspected that a broken projection lamp may have been the problem with the set at which point the customer declined the estimate. Static resistance measurements were performed on the power supply, such as at the fuse and the power semiconductors along the heat sinks. All these measurements checked out OK, therefore the power supply to the best of my knowledge, is considered to be in working condition. A warranty of 30 days from date of delivery will be given, in case there is an unknown fault. Buyer would be responsible for returning the item with delivery confirmation at their expense to claim warranty, and must obtain a RMA number first before returning the item. Both the original purchase price and the original shipping charge would be refunded, but not the return shipping charge.
PRICE: $59.00 US plus shipping. Shipping price to be determined by buyer's location. Please email for a quote.
Number63.ca is owned and operated by McCartney Electronics of Guelph Ontario, Canada.
CONTACT:
Enquiries: sales@number63.ca
Mailing/ shipping address:
McCartney Electronics
7134 Fife Rd RR 7
Guelph ON N1H 6J4 Canada

THIS WEB SITE
The web site was built and is maintained by McCartney Electronics. All graphics design included in this page is copyright © McCartney Electronics. This web site is hosted by StormWeb
This site is best viewed with Mozilla Firefox, Mozilla Seamonkey, Internet Explorer 4 -up, or with Netscape 7 -up with display set at 800 x 600 or higher resolution and 24 or 32 bit color depth. Please notify the webmaster if pages are not being displayed properly. The webmaster is a rookie so go easy on him, eh? Thanks.
Presently, much of this site is under construction. Please bookmark and come back for another visit anytime.